AI Labs
Panasonic operates development and research (R&D) on artificial intelligence (AI) at four sites in Japan, and two overseas.
This is the largest R&D site in Panasonic, gathering four of the technology divisions plus the Advanced Research Division. It has been promoting R&D on AI technology combined with a broad range of products and devices developed in the company's key business areas.
This was opened in April 2016. In Hamarikyu, engineers related to AI, IoT, robotics, and sensing have been working together here. Internal and external collaborators have assisted to accelerate R&D progresses of new themes.
Since 2015, this site became the central hub of technology development for image recognition and robotics and control for vehicle-mounted devices and B2B solutions.
Since the establishment of Kyushu Matsushita Electric Industrial Co., Ltd., the site has been pioneering new markets with full of frontier spirit. Its main task is new solution development for Connected Solutions Company (CNS Company) including intelligent image processing and sensor and audio signal processing using AI technology.
Since its establishment in 1990, the site has accumulated technology as a R&D site for AV signal processing. Today, it is an R&D site holding the company's top-level teams to work on algorithm development, system implementation, and performance optimization towards a wide range of themes.
Link: https://research.sg.panasonic.com/
Based in San Jose since 2004, they have been collaborating with many partners including academic labs conducting state-of-art research and startup communities to gear-up the research and development of cutting-edge AI technologies.
Recently, their research area ranges from accurate and low-cost real-time pedestrian detection to "Explainable AI" that improves interpretability and explainability of Deep Learning technologies which are usually referred to as being "black boxes". Also they work on the latest research topics like Dataset Management and Neural Architecture Search which improves the efficiency in AI/ML development process, and Deep Reinforcement Learning to control the movement of robotic arms.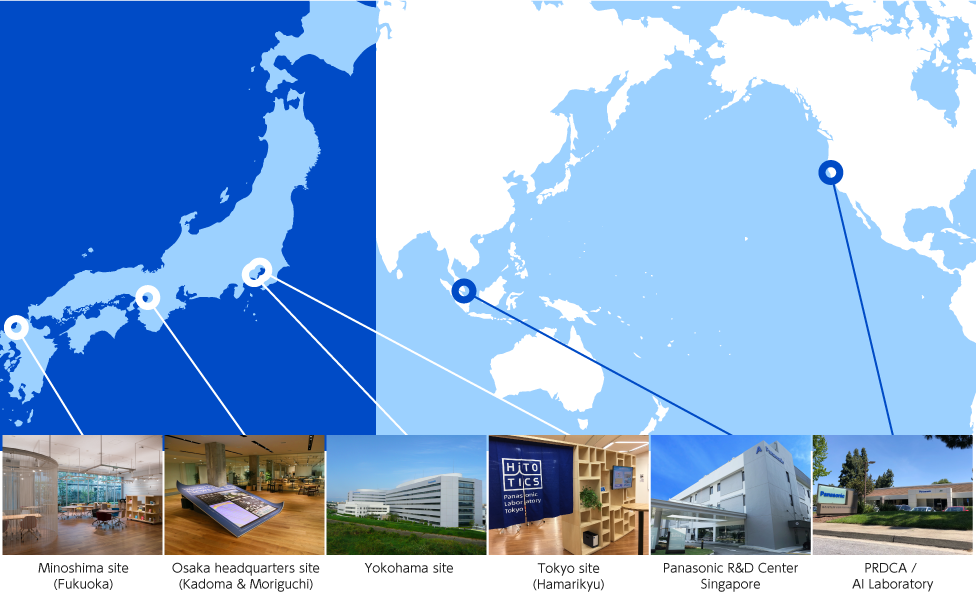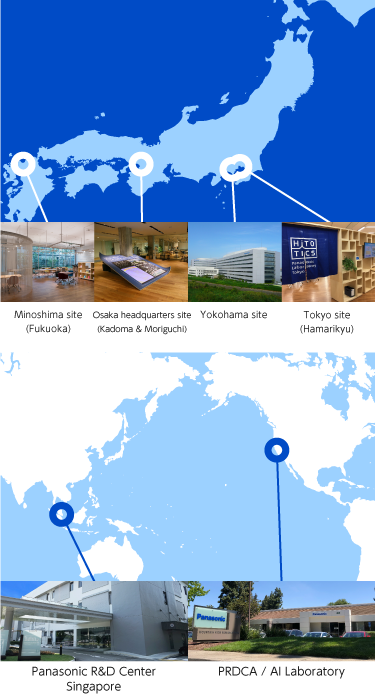 Research Partners
Through collaboration with academic laboratories conducting advanced research, startup companies in Silicon Valley, and local communities, we have been working on the acquisition and research of cutting-edge AI technology.
List of Main Collaborators (updated in March 2020)
* listed in alphabetical order
Stanford University, University of Montreal (MILA), University of California Berkeley, and National University of Singapore
Chubu University, Hokkaido University, Kyoto University, Kyushu University, Nagoya University, Nara Institute of Science and Technology, Osaka University, Tokyo Institute of Technology, Tohoku University, University of Fukui, University of Tokyo, and Waseda University
Whole Brain Architecture Initiative
National Institute of Informatics, National Institute of Advanced Industrial Science and Technology, National Institute of Information and Communications Technology (NICT), National Institute for Materials Science (NIMS), and The Institute of Statistical Mathematics
Achievements
Introduce our achievements inside and outside the company.